We are honored to have been voted 2018 Best Cosmetic Dentist and nominated as 2019 Best Cosmetic Dentist, Best Adult Dentist, and Best Orthodontist by the readers of Irmo-Chapin Life Magazine. Thank you!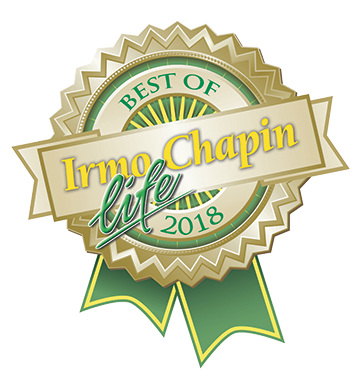 If you'd like to share some kind words and smiles, please provide a review on Google, Facebook, Rate A Biz or Healthgrades.com. Simply click on the link where you'd like to provide a review. We'd love to hear about your experience! Here's what some of our patients have had to say about Irmo Smiles.
Reviews from our Amazing Braces Club members:
Love the entire staff.......Dr. Raman & Staff hands down best in South Carolina..Melody you are hands down my fav.......-Tory
I love Irmo Smiles. They are very nice and they acually care if you are happy or if you are felling discomfort. I like them because they try their best to make you as comfortable as you can be. --Katelyn T.
Best Place ever everyone there is soo nice. If you do not know where/what to do the workers help you alot! Irmo Smiles always has really good cookies and an awesome game room with a ton of video games. Irmo Smiles always makes Me Smile!!!! -- Dalton B.
Dr Raman and staff are fantastic. They take the time to explain everything from the smallest part of the process to the details of the costs and are flexible with payment options to align with HSA accounts. --Calvin B.
Facebook Review Posted July 6, 2018 by Crystal
Words can't describe how my family feels about Irmo Smiles. The staff at Irmo Smiles always welcomes my family with a smile and goes above and beyond to make sure we are taken care of. It doesn't matter if it is scheduling our appointments, working with the billing or taking time to make sure we have clean teeth and a beautiful smile, the attention given to us is superb. My husband recently had horrible pain with a tooth. We were a little worried when this happened because the office was closed for the week. After realizing he couldn't tolerate the pain any longer, we called the emergency number provided on the voice mail. Robin answered right away and didn't hesitate to work us in. She met my husband an hour later and realized he needed to be seen that day by the Endodontics. Little did we know he was 24-48 hours away from being hospitalized due to infection that had set in. If it had not been for Robins immediate attention and outstanding care, my husband could have been in a horrible situation. We are so thankful for her and all the wonderful staff at Irmo Smiles.